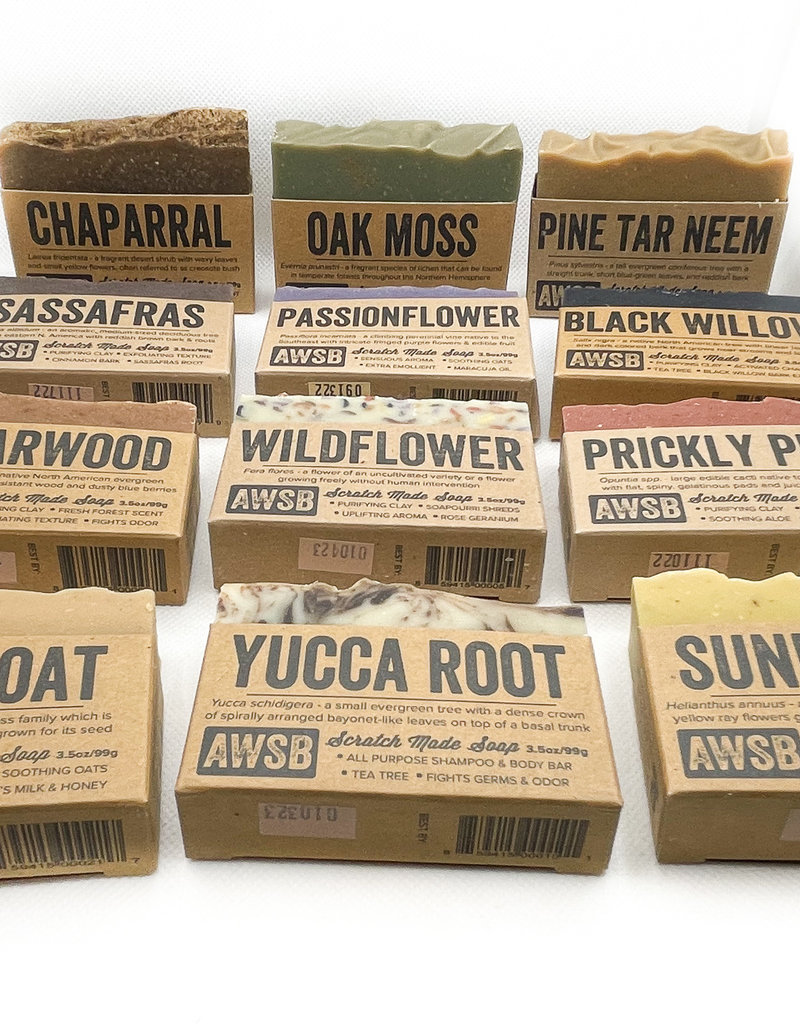 A Wild Soap Bar
Pure and natural soaps featuring wild, native North American plants.
Black Willow: Germ busting tea tree/eucalyptus essential oil blend with purifying charcoal & black willow extract for acne & skin problems
Cedarwood: An invigorating forest scented fir needle essential oil blend with purifying red clay and responsibly wildcrafted cedar wood flour.
Chaparral Shampoo Bar: Packed with antifungal and antimicrobial chaparral leaf, this lightly scented all-over shampoo & body bar smells exactly like the prolific desert plant it's named for (there are no added scents).
Oak Moss: Used as a fixative, oak moss not only improves the longevity of the scent but also lends an earthy, forest-like aroma to our Oak Moss Soap.
Passionflower: A sensuous ylang ylang essential oil blend with skin nourishing exotic passion fruit seed oil (also known as maracuja oil)
Pine Tar Neem: An old fashioned medicinal soap with smoky scented pine tar, neem oil and a germ busting tea tree essential oil blend. Not the best smelling bar, but great for all kinds of skin problems!
Prickly Pear: An energizing rosemary/mint essential oil blend with wildcrafted prickly pear cactus & soothing organic aloe. 
Seaweed: A sensuous, earthy essential oil blend loaded with exfoliating mineral rich sea salt, sea clay, and sea kelp. 
Wild Flower: A balancing rose geranium essential oil blend with colorful shreds of our organic bar soaps sprinkled throughout (colors may vary).
Sweetgrass: A sweet, slightly grassy, vanilla spice essential oil blend infused with sacred native sweetgrass braids and enriched with purifying green clay.
Honey Oat: Unscented, extra moisturizing, super gentle and mild with local raw honey, organic oats and goat's milk. Great for super sensitive skin. 
Desert Sage: A purifying sage and rosemary essential oil blend enriched with soothing organic oats and responsibly wildcrafted desert sage leaf.
Sassafras: A warm, spicy cinnamon essential oil blend sprinkled with exfoliating wild sassafras root and organic cinnamon bark powder.
Bluebonnet: Relaxing lavandin essential oil blend sprinkled with responsibly wildcrafted native Texas bluebonnets
Sunflower: Prized by the ancient Aztecs, organic sunflower petals are scattered about this cheery yellow bar, scented with a tart & tangy lime essential oil blend.
Yucca Root: An all-over shampoo, face, and body bar with a germ busting tea tree essential oil blend.