Posted on
By Megan Fuhrman-Wheeler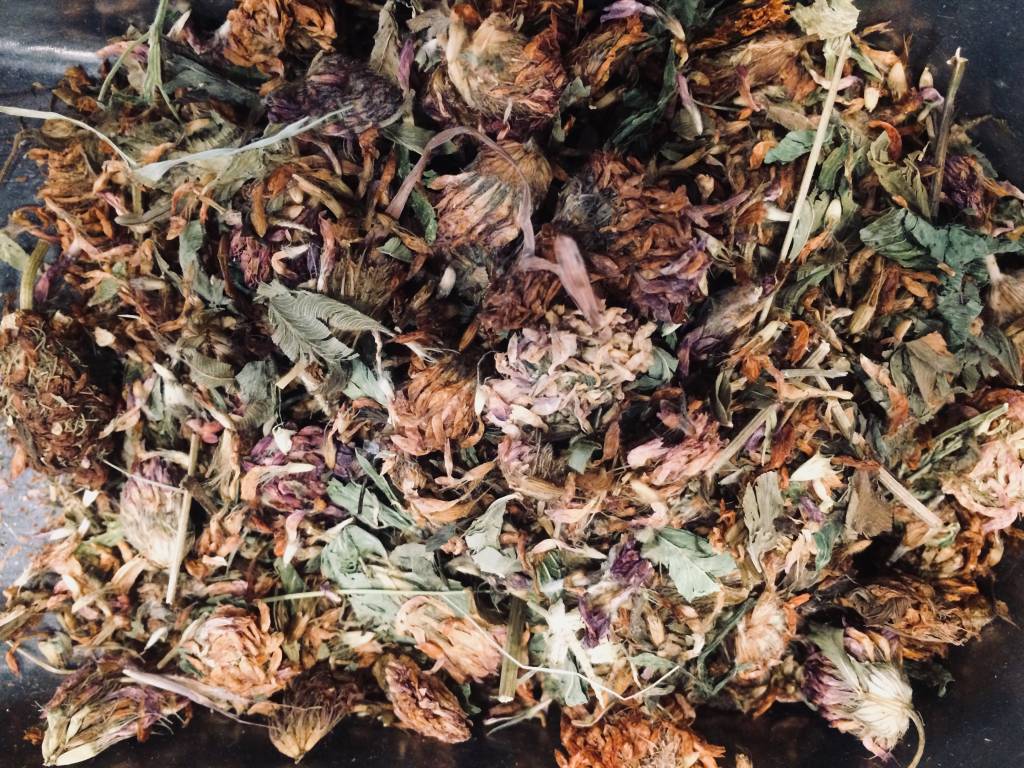 An In-Depth Look at This Nutritive Herb!
Latin name of herb: Trifolium pratense (Fabaceae)
Common names: Red Clover
Part(s) used: Flower Head with small portion of top leaves
Form(s) used: Infusion; Extract
Vitalist actions and energetics: cool, slightly dry, relaxant, vital stimulant
Clinical actions: alterative, antioxidant, antitumoral, antispasmodic, anti-inflammatory, antidyscratic, expectorant, estrogen-like, nutritive, wound-healing
Constituents: coumarins, clovamides, cyanogenic, glycosides, isoflavones, flavonoids (formononetin, biochanin, daidzein, genistein), phytosterols, volatile oil (benzyle alcohol and methyl salicylate)
Primary uses: Internally: arthritis, used for breast cancer treatment, relief of menopausal symptoms (hot flashes, sweating, tachycardia, insomnia, emotional instability), gout, prevention of osteoporosis, high cholesterol and triglycerides, breast, prostate and uterine cancer) spasmodic coughs. Externally: for chronic skin disease (eczema, psoriasis). Effective in chronic degenerative diseases.
Cautions, contraindications, and possible adverse effects: Should not be taken in cases of estrogen receptor positive tumors. Consult health care professional before taking during pregnancy or while breast-feeding, as there is limited information on the side effects. Adverse reports are minor and similar in placebo and red clover groups.
Resources Cited: Chevallier p277; Skenderi p316; Actions Database: Red Clover; Tierra P192-193; AHPA p876-877; Tilgner p 141