Organic Citrus Clove Shea Butter
Refreshing And Awakening. This Scented Shea Butter Will Moisten And Awaken. Made With 100% Essential Oils.
Organic Citrus Clove Shea Butter
Sizes 4 oz or 9 oz Jar
Description: Refreshing and Awakening. Made with 100% essential oils, this scented shea butter is formulated with ingredients known to moisten and awaken.
Organic and Natural Ingredients:
Organic Refined Shea Butter, Organic Sweet Orange Essential Oil, Organic Clove Bud Essential Oil
Hint:
+ This is a great whip unless your skin is cracked open. If your skin is open, we do not recommend any oil based products or lotions until your skin has sealed itself. In the meantime: try a hydrosol like our Lavender or Chamomile: for anti-microbial, cleansing, wound healing actions. 
+ This topically formula works great when paired with an internal approach: try our Daily Boost or Charming Chocolate Tea for an uplifting boost.
Please consult a qualified healthcare practitioner before using herbal products, particularly if you are pregnant, nursing, or on any medication.
This information is not intended to diagnose, treat, prevent or cure any disease. This information is for educational purposes only. This information has not be evaluated by the Food and Drug Administration.
Related Products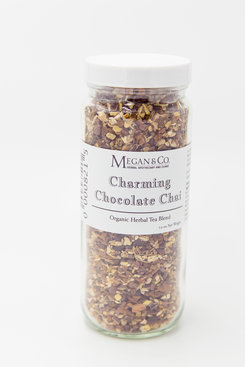 Charming Chocolate Chai Herbal Tea Blend
Citrus + Clove Hand + Face Wash