Ginger Rose Whipped Body Cream
Winter Skin Getting You Down And Dry? Check Out Our Whipped Body Creams!
Ginger Rose Whipped Body Cream
 Sizes: 4 oz or 8 oz Jar
Description: Amazingly hydrating and light! Our whipped body creams are formulated with herbs historically shown to be wound healing, reparative, and hydrating; a perfect combination for that dried out winter skin. The Ginger Rose blend adds a wonderful floral yet spicy scent which promotes circulation and assists with emotional stagnancy.
Organic and Natural Ingredients:
Organic Olive Oil, Organic Refined Shea Butter, Organic Cocoa Butter, Organic Comfrey Root, Organic Horsetail Leaf, Organic Mullein Flower, Organic Rose Hip Seed Oil, Ginger Rose Essential Oil Blend
Hint: This Pairs Lovely with our Heart Love Tea! All great for emotional support and calming of the heart.
Please consult a qualified healthcare practitioner before using herbal products, particularly if you are pregnant, nursing, or on any medication.
This information is not intended to diagnose, treat, prevent or cure any disease. This information is for educational purposes only. This information has not be evaluated by the Food and Drug Administration.
Marcia
|
23.04.2020
I've used these now for several weeks. LOVE it! Use on my lips and my hands (especially since I wash my hands constantly)!
Related Products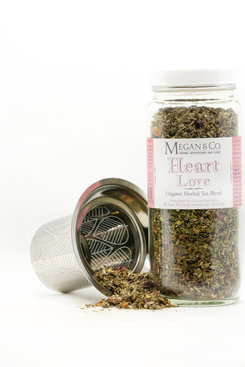 Heart Love Herbal Tea Blend