Organic Happiness Massage + Bath Oil
Need Some Happiness In Your Life? Check Out This Uplifting and Nourishing Massage Oil
Organic Happiness Massage + Bath Oil
Sizes: 2 oz and 4 oz Jars 
Need Some Happiness In Your Life? Our Happiness formula uplifts your spirits and hydrates your skin. Herbs in the formulation, historically have been shown to be nervines, circulatory stimulating, anti-depressant, and emotionally calming.
Organic and Natural Ingredients: 
Organic Olive Oil, Organic Jojoba Oil, Organic Calendula Flower, Organic Lemon Balm Leaf, Organic Rose Flower, Happiness Essntial Oil Blend (Organic Geranium Rose Essential Oil, Organic Orange Essential Oil, Organic Lemon Essential Oil, Jasmine Essential Oil, Organic Peppermint Essential Oil), Organic Vitamin E Oil
Hint:
+ This topically formula works great when paired with an internal approach: try our Heart Love Tea or Peaceful Prairie Tea Blend
Please consult a qualified healthcare practitioner before using herbal products, particularly if you are pregnant, nursing, or on any medication.
This information is not intended to diagnose, treat, prevent or cure any disease. This information is for educational purposes only. This information has not be evaluated by the Food and Drug Administration.
Related Products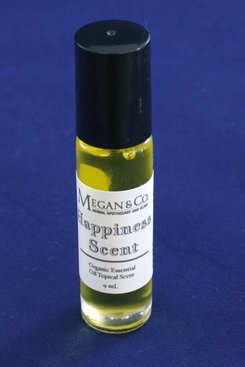 Happiness Scent, Essential Oil Topical Roller
Heart Love Herbal Tea Blend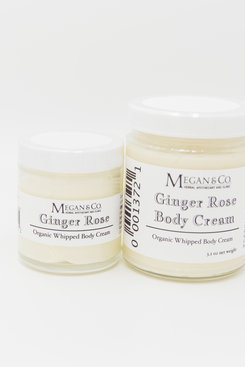 Ginger Rose Whipped Body Cream
Happiness Essential Oil Blend