This hydrating herbal infusion is formulated to assist with calming the nervous system while keeping the skin hydrated with vulnerary herbs.*
Qty: 2oz (60mL) and 4 oz (120 mL) 
To Use: Apply directly onto skin or into the bath.
Ingredients: Organic Apricot Seed Kernel Oil, Organic Olive Oil, Organic Jojoba Oil, Organic Calendula Flowers, Organic Lavender Flowers 
Hint: Fussy baby? Try this gently calming bath oil. A wonderful oil for dry and inflamed skin.
Caution: It is never recommended to apply oil to open wounds.
Please consult a qualified healthcare practitioner before using herbal products, particularly if you are pregnant, nursing, or on any medication. 
*This information is not intended to diagnose, treat, prevent or cure any disease. This information is for educational purposes only. This information has not be evaluated by the Food and Drug Administration.
Related Products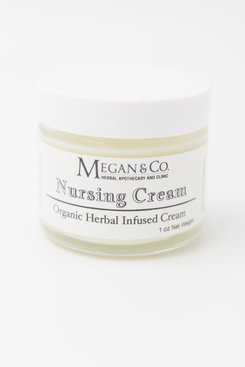 Organic Herbal Nursing Cream