Happy Beard Oil
Having Troubles Growing A Beard? Is Your Beard Itchy or Dry? Check Out MEGAN & CO.'s Happy Beard Oil!
Happy Beard Oil, prepared at MEGAN & CO. is an herbal formulation created with ingredients historically shown to be nutritive, restorative, and cell proliferating. Together creating a wonderful formula for that dry and stagnant beard.
Ingredients: Organic Olive Oil, Organic Jojoba Oil, Organic Nettle Leaf, Organic Comfrey Root, Organic Rosemary Essential Oil, Organic Cedarwood Essential Oil, Wildcrafted Fossilized Amber 25% FCO Essential Oil, Organic Eucalyptus Essential Oil, Organic Sweet Orange Essential Oil
To Use: Apply a few drops into the palm of hand. Apply to the tips of beard. For best results, apply when wet. 
Please consult a qualified healthcare practitioner before using herbal products, particularly if you are pregnant, nursing, or on any medication.
This information is not intended to diagnose, treat, prevent or cure any disease. This information is for educational purposes only. This information has not be evaluated by the Food and Drug Administration.
Related Products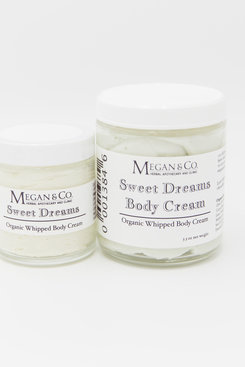 Sweet Dreams Whipped Body Cream