Happy Ear Organic Infused Herbal Oil
My awesome neighbor dropped me off some Happy Ear oil for my not so happy ear and after about 3-4 applications I'm so glad to say my ear pain is gone" - Jennifer A.
A Soothing Oil for Unhappy Ears. Formulated with ingredients historically shown to be anti-mircrobial, vulnerary, and wound healing properties. *
Qty: 5oz
Ingredients: Organic Olive Oil, Organic Mullein Flower, Organic Fresh Garlic, Organic St. John's Wort Flower, Organic Lavender Essential Oil, Organic Vitamin E
Application: Apply 1-2 drops in the outer ear and massage in. Apply 2-3 times daily. 
Please consult a qualified healthcare practitioner before using herbal products, particularly if you are pregnant, nursing, or on any medication.
*This information is not intended to diagnose, treat, prevent or cure any disease. This information is for educational purposes only. This information has not be evaluated by the Food and Drug Administration.
Related Products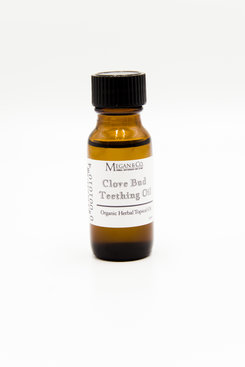 Clove Bud Teething Oil, Organic Infused Herbal Oil