Kid's Decongestant Salve
Stuffed up? Congested Kids? This Is The Product For You!
Kid's Decongestant Salve
Size 2 oz and 4 oz
Description: This decongestant salve is gentle yet powerful! It is formulated to assist with stuffy congested noses.
Organic and Natural Ingredients: Organic Jojoba Oil, Organic Olive Oil, Organic California poppy, Organic Mullein Flower, Organic Cayenne Powder, Natural Lanolin, Natural Beeswax, Organic Lavender Essential Oil, Organic Thyme ct Linalool Essential Oil, Organic Orange Essential Oil, Organic Frankincnse Essential Oil, Organic Juniper Essential Oil, Organic Spearmint Essential Oil
Hint: Try Pairing this with our Elder Berry Syrup or Maggie's Tea Party Tea Blend. 
Beki
|
28.08.2020
When my daughter gets a stuffy nose, she asks for the "nose stuff!" This works great and especially keeps my babe's skin healthy after all the wiping and blowing that happens during a cold!
Related Products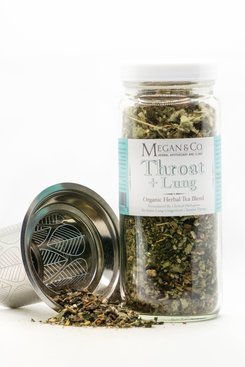 Throat + Lung Organic Herbal Tea Blend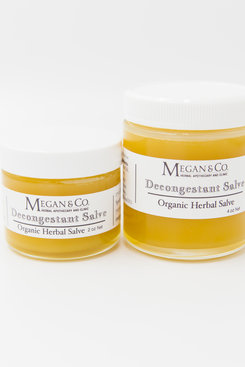 Decongestant Organic Essential Oil Blend