Muscle Tension Bath Salt
Sizes: 4 oz or 9 oz Jars
Description: Our Muscle Tension Salt Bath Is Formulated To Promote Relaxation to those strained muscles.
This blend from MEGAN & CO. utilizes herbs historically known to have anti-inflammatory, circulatory stimulating, grounding and detoxifying qualities. This is a great formula for those post work out or for those who tend for hold a lot of tension in their body.
Hint: 
Try Pairing this blend with with our Growing Pains Tea! 
Natural and Organic Ingredients: Natural Dead Sea Salt, Organic Coconut Milk Powder, Natural Baking Soda, Organic Frankincense Essential Oil Blend, Organic Ginger Essential Oil, Organic Peppermint Essential Oil, Organic Turmeric Essential Oil, Organic Wintergreen Essential Oil)
Please consult a qualified healthcare practitioner before using herbal products, particularly if you are pregnant, nursing, or on any medication.
This information is not intended to diagnose, treat, prevent or cure any disease. This information is for educational purposes only. This information has not be evaluated by the Food and Drug Administration.
Related Products
Cooling Cleanse Herbal Tea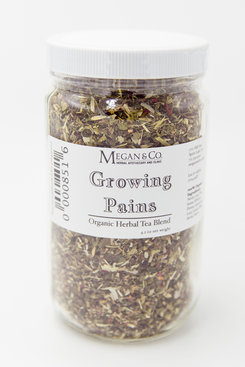 Growing Pains Herbal Tea Blend