Peaceful Prairie Organic Herbal Tea Blend
"Peaceful Prairie helps me wind down and sleep better!"- Joy J.
Peaceful Prairie Organic Herbal Tea Blend
Description: A beautiful blend formulated with herbs historically shown to assist with stress, anxiety, and nervousness.* This lovely formulation has contains a fresh floral spearmint taste.
Organic Ingredients: Organic Linden Leaf, Organic Chamomile Flower, Organic Oat Tops, Organic Calendula Flower, Organic Spearmint Leaf, Organic Lemon Verbena, Organic Rose Petals
Disclaimer: Peaceful Prairie is not recommended during pregnancy and lactation.
Sizes:
16 oz Jar: 1.9 oz Net Weight 
1 oz Refill: 1 oz Net Weight Refill
Please consult a qualified healthcare practitioner before using herbal products, particularly if you are pregnant, nursing, or on any medication.
*This information is not intended to diagnose, treat, prevent or cure any disease. This information is for educational purposes only. This information has not be evaluated by the Food and Drug Administration.
Heather Dalen
|
28.10.2019
This tea is a relaxing blend that is unbeatable. When I am stressed, tired or just want a few minutes to wind down it calls to me. I take it before bedtime and I fall asleep fast and wake up refreshed!
Related Products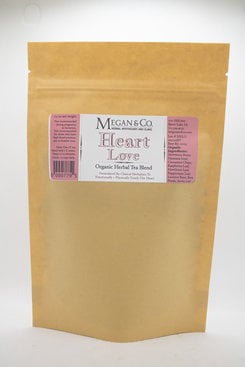 Heart Love Herbal Tea Blend