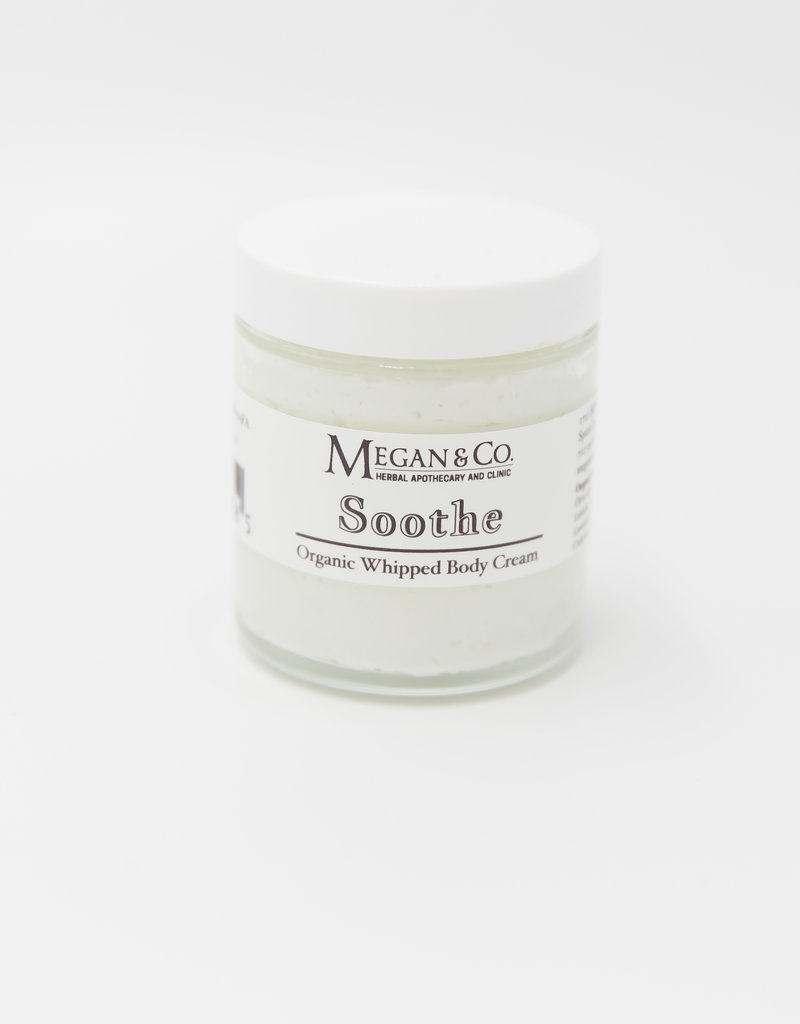 Soothe, Organic Herbal Body Whip
Do you have dry itchy inflamed skin? Soothe is formulated just for you!
 Soothe Herbal Body Whip
Description: Formulated with ingredients known to be moistening, anti-microbial and wound healers. Soothe is a great whip for those people dealing with skin issues like psoriasis and eczema.
Hint:
+ This is a great whip unless your skin is cracked open. If your skin is open, we do not recommend any oil based products or lotions until your skin has sealed itself. In the meantime: try a hydrosol like our Lavender or Chamomile: for anti-microbial, cleansing, wound healing actions. 
+ This topically formula works great when paired with an internal approach: try our Detox Tea or Detox Honey for internal support with skin issues. 
Organic Ingredients: Organic Shea Butter, Organic Olive Oil, Organic Yarrow Leaf, Natural Lanolin, Organic Peppermint Essential Oil, Organic Rosehip Seed Oil, Organic Cedarwood Essential Oil, Organic Chamomile Essential Oil 
Please consult a qualified healthcare practitioner before using herbal products, particularly if you are pregnant, nursing, or on any medication. 
This information is not intended to diagnose, treat, prevent or cure any disease. This information is for educational purposes only. This information has not be evaluated by the Food and Drug Administration.
Caitlin
|
29.08.2020
This stuff is amazing for my eczema on my elbows, knees, and ankles! One of the only natural products I've found that works! Smells awesome, too!
Beki
|
28.08.2020
This is the best smelling product in the entire store! It is so perfect for dry winter months, as well as for my toddlers sensitive skin!
Related Products