Description: The Shell 18oz tea infuser mug is a unique and beautiful series. The exterior of the mug is a specially formulated clay enriched with minerals and finished with a reactive glaze to create an organic texture.
Each piece is unique with subtle variegated coloring and texture. Each mug includes our Tilt & Drip stainless steel fine mesh tea infuser.
The v-clip on the tea infuser allows it to rest on the side of the mug. You do not need to hold the infuser as the tea drains.
The lid doubles as an infuser holder. BPA and dishwasher safe. Perfect for loose leaf tea and teabags. Comfortable handle and lighter weight. Mug is microwave safe. Do not put the stainless steel infuser in the microwave.
Related Products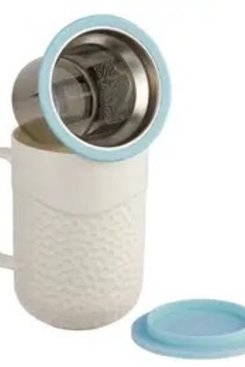 Coral Blue Lid Tea Infuser