Throat + Lung Organic Herbal Tea Blend
Description: This herbal tea blend is formulated to assist with scratchy, irritated mucous membranes, and deep coughs. Utilizing a blend of herbs historically shown to be nourishing, carminative, and anti-spasmodic; together assisted with those throat and lung conditions.*
Organic Ingredients: Organic Nettle Leaf, Organic Elecampane, Organic Wild Cherry Bark, Organic Mullein Leaf, Organic Cinnamon Chips, Organic Licorice Root, Organic Anise Seed
Disclaimer: Throat + Lung is not recommended during pregnancy or lactation.
Size:
16 oz Jar: 2.6 oz Net Weight 
32 oz Jar: 5 oz Net Weight 
1 oz Refill: 1 oz Net Weight
Please consult a qualified healthcare practitioner before using herbal products, particularly if you are pregnant, nursing, or on any medication.
*This information is not intended to diagnose, treat, prevent or cure any disease. This information is for educational purposes only. This information has not be evaluated by the Food and Drug Administration.
Related Products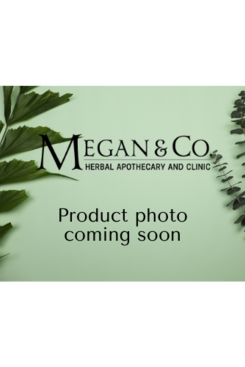 Release Organic Essential Oil Blend (Formally Known as Decongestion Blend)