Description: 
The 15oz Weave tea infuser mug is made from new bone china. The exterior of the tea infuser mug features a weave textured design.
The top part of the mug where you drink is a smooth finish. The interior of the mug is white which allows you to see the color of the tea.
The mug includes a stainless steel filter which is perfect for loose leaf tea and tea bags. The mug has a comfortable handle and nice weight and feel. It is not too heavy.
The handle does not get hot in the microwave. The silicone lid is heat resistant to 450 degrees. The lid can be used as an infuser holder and a coaster. The lid is not secure so you cannot use this as a travel mug.
BPA free. Dishwasher safe. The mug and silicone are microwave safe. Do not microwave the stainless steel infuser.
Related Products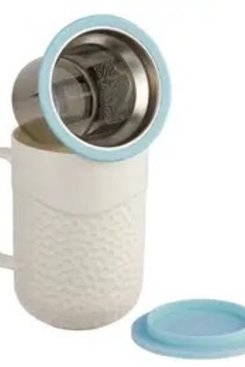 Coral Blue Lid Tea Infuser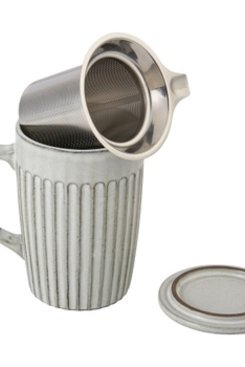 Stone Grey Infuser Mug, 18oz